This week I had the honor, and the downright fun role of pitching our social enterprise startup Welcome 360 at the Brisbane Powerhouse. The event was a celebration of the end of the Elevate+ Accelerator program.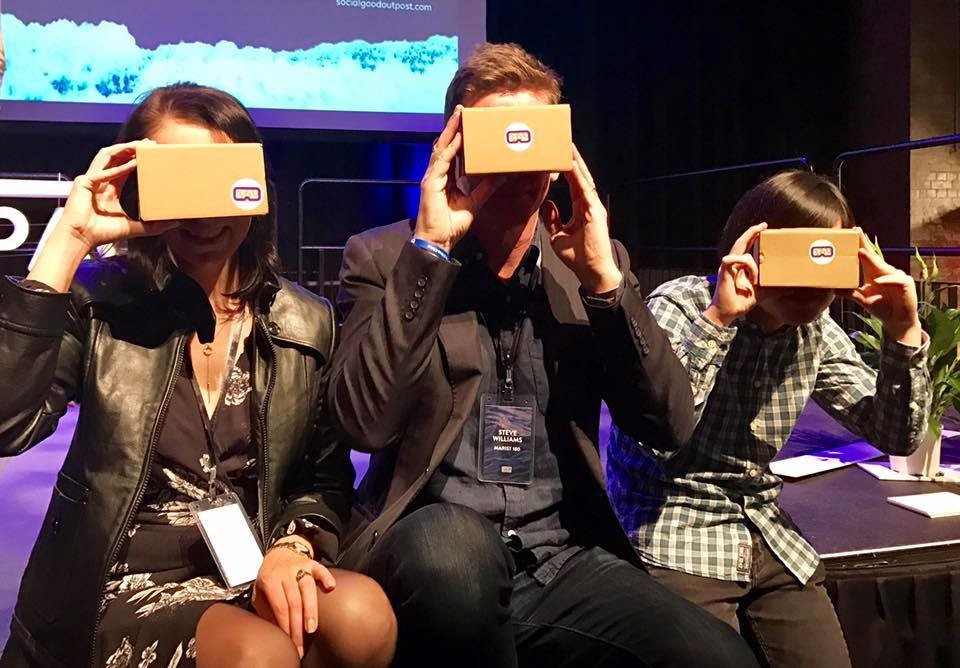 Co-founders Amanda Alexander, Steve Williams, Jogen Phang
Welcome 360 helps refugees and new migrants overcome the challenges of settling in to life in a new city; daily life challenges, such as using banks, libraries, or accessing health care services. We partner with organisations and government departments, and film 360 training videos to do this.
When we formed at the 2017 Techfugees Hackathon, we found that that there was one humanitarian caseworker for 60 clients. In Sydney we understand this number has ballooned in some non-profits to 1 – 110. Organisations are struggling to give new migrants the help and support they need. Our research suggests that migrants benefit from developing life skills and confidence by repeating training scenarios. When organisations buy videos from Welcome 360 it frees up caseworkers time to serve people in a deeper, more connected way.
The Elevate+ event was attended by the Lord Mayor of Brisbane Graham Quirk and a host of investors, entrepreneurs, and potential customers; we decided to ensure our message came across that using VR and 360 is a proven way to build empathy and embed learning.
As the pitch was a strict 3 minutes, we had to nail the message and the ask; partner with us to create welcome for Brisbane's newest residents.
I have a long history in social enterprise, am a graduate of the School for Social Entrepreneurs, and have attended lots of hackathons, pitch nights and startup events; this one was undoubtedly the best because Elevate+ founder Tom Allen got the right people in the room, trained the cohort with skill and kindness, and showcased the best new social businesses in Brisbane.
It proved to me once again that social + business is the key to creating change and addressing the balance of greed, environmental waste and economic disparity across the world.
Thanks to Tom for a great Accelerator program and event; and also to the friends, family, and even some strangers who listened to me practicing my pitch over the last couple of weeks – from an 87 year old philosopher, to my 15 year daughter, to the local florist, the board of the Food Connect Foundation and even the Director of Strategy & Partnerships at Go1! Thank you all.